Finally, coming out of the closet after staying hidden for a long time is such a breath of fresh air, but this also means you'll have to discover the lesbians around you and identify yourself as a "type," too. It can get pretty confusing when you're a newly open queer girl.
Answering questions like "what's your type" and "what do you identify as" will be made easier through the list we've compiled on the different types of LGBT ladies you might meet.
Lipstick
"Lipstick lesbian, meaning?" you might ask. Suppose you're asked if you identify as one. Simply put, a lipstick lesbian, also known as a femme, is a girl that loves being girly. You won't be able to "identify" them as LGBT unless they mention it directly. These women love dressing up, jewelry, accessories, the makeup. They aren't afraid to try anything feminine. You'll also see these ladies supporting a more stereotypical girl look and are generally skinny lesbians.
Chapstick
Chapstick lesbians are a hybrid between lipstick and butch (more about them later on). These females don't shy from dressing up feminine or masculine. If you identify as Chapstick lesbian, you'll consider yourself neither a traditional butch of femme-type girl.
Activist
Activist lesbians, as the name indicates, are girls in the queer community that also love to stand up for civil rights. Activists have a strong passion for justice and equality; you'll find these women at various rallies and parades fighting for human rights and justice. They can't be categorized as butch or femme; they come from all backgrounds.
Boi
Boi lesbians are those women that support masculine look. These females dress not "as a man" more like "manly" and keep boyish hairstyles. Some consider boi lesbians to be in the transitioning phase of being trans, but it is another case. Bois don't lose their femininity and feel great in their bodies; they just adopt a different style.
Baby dykes
If you've recently come out of the closet, then you'll be identified as "baby dyke," the term is used for those girls that were closeted up until recently. Baby dykes can be anything, femme butch, lipstick, Chapstick, or whatever.
Alpha
Also known as queens, alphas are notoriously known are the straight women converters. Alphas are seen supporting makeup, short hair, several tattoos; they'll hit up every girl at a bar. Alpha lesbians are also known to non-serious with relationships; they don't commit and often cheat.
Sport dykes
Sport dykes, also known as athletes, are simply the sporty girls in the LGBT community. Any female that plays a sport is automatically seen as a sport dyke. There's even a famous phase after female athletes that says, "Not all lesbians are sport dykes, but all sport dykes are lesbians." Athletes aren't single since most times, they date their teammates.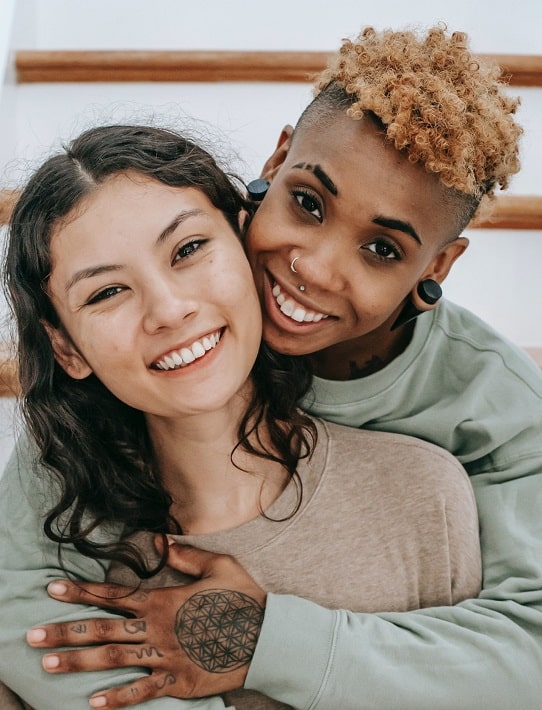 Teeny dyke
Teens in the queer community are referred to as teeny dykes; these are girls straight out of high school or even in it, mostly closeted, some open. Teen lesbians are loud. They have bright dyed hair supporting an almost "emo" look (preferred colors are turquoise, neon yellow, and pinks)
Butch
The traditional classifications of "manly" or stereotypical lesbians are the butches. Butch lesbians are not every girl's dream date but for those craving the traditional relationship dynamic and a dose of masculinity in their all-female relationship, they are perfect.
To identify butches, keep an eye for a female dressed as a guy supporting suits preferably, classy shoes, chains on the neck, big rings and bracelets (not feminine in design), and watches.
Hasbian
Hasbians (has been lesbians) are the so-called "I'm no longer a lesbian" these girls exclusively date men now but at any time might take the opportunity of dating a lesbian again.
Of course, they don't call themselves that; however, when they are dating men, they identify as straight, when not – either lesbian or a bisexual. For those girls, it really was "just a phase."
Ultra femme
Ultra femmes, as the name indicates, are incredibly feminine, more so than the lipstick ones. They'll wear heels, carry around handbags, and even be seen supporting long nails, which is a big no-no in lesbian code, especially if you're sexually active.
Blue jeans
These ladies are femmes but prefer not to dress up in overly girly clothes, or anything that screams "with beauty comes the pain" you'll see them supporting outfit choices that match those of butch or chapsticks. Still, it's all for the purpose of dressing up comfy.
LUG
LUG's, short for Lesbian until graduation, are "lesbians" figuring out and exploring their identity. LUG's might end up bisexual or straight at the end of the journey. This term is also used for a girl who is in university and only looking for NSA fun with women for the sake of sex. But for now, they will indulge in experiencing a few encounters, and they use this time well.