Pros
Easy registration process
Find more diverse matches with advanced search features and Smart Match
Enjoy professional online support for all site features
Cons
Must wait for site admin review of your account
Must use international calling codes to use the Call services
Users are listed as being located in Asia, Russia, Ukraine, and Latin America
Appreciate the Benefits of Charmdate.com
When you're single and ready to mingle, you want to take advantage of the convenience of an online dating community. It's important to be yourself and use respectful communication on this site to earn the trust of guys or girls who capture your interest. Get started with your free registration and fall in love with a wonderful partner online.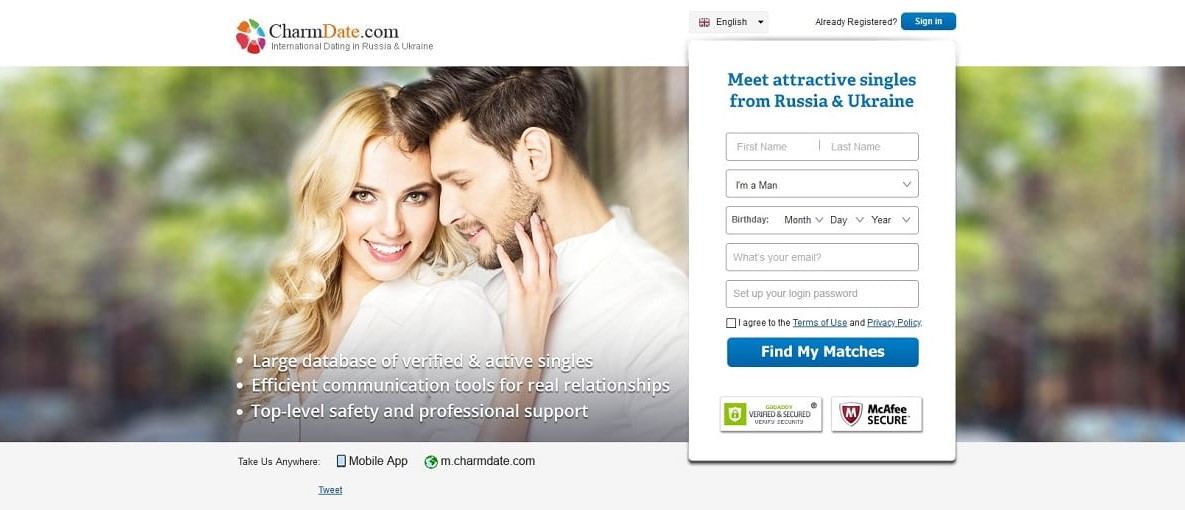 Overview
Learn the ins and outs of international dating on this modern dating website, where singles, couples, and everyone else can meet and make new friends. This site is owned and operated by AML Network Ltd, and it pays to read their terms of service.
One of the easiest ways to get started with flirting is to subscribe to the EMF Mail service and start sending and receiving messages from attractive Russian and Ukrainian singles.
Before chatting on the phone or video, and, ultimately, meeting in person, however, you will have limited information about your potential romantic match. At any time, you can change the terms of your subscription or extend your credits to use the site features at a level that fits your needs.
How to Register on Charmdate
Online dating is how to find introductions to adults who you think are your ideal romantic partner. It's not possible to get started immediately on this site. In the initial registration process, you must first provide your name, date of birth, and email address. Then, you must wait for your account credentials to be reviewed by the site admin before using the site.
This means that, until the review is complete, you can't even add content to your profile, such as a description or pictures. Compared to other websites, Charmdate has extensive FAQs, so you can easily navigate their platform and choose which services you want a paid subscription for.
Members & Profiles
Browsing the member profiles, please remember to identify what orientation or connection you seek. For example, you are a man or woman seeking a female or male companion. Not everyone falls within binary gender categories, but it's okay to target your search based on your personal preferences – if you are a fan of anime, seek people with anime profile pictures and Japanese animation mentioned in their bio.
There may be fake profiles, but you will know if users are real because you talk to them over the phone or video chat after. When you view a woman's profile, observe listed pictures and personal interests used to describe a personality and make it more desirable for you to date.
She can manipulate this information in any way. If you video chat with her, then you get a better idea of what she looks like in person, but you don't know her living situation or character. If she agrees to meet, then you can assess the chemistry and see if your personalities and lifestyles are compatible.
Staying Safe on Charmdate.com
Using this site is like any other online dating service. You create a free dating profile, but you don't share enough information so that users can find you in real life, including your financial data, real name, telephone number, or residential address. If you use the subscriber phone services, you can get unique identifying numbers and chat on this secure platform.
If you feel more comfortable talking over instant messaging, phone, or video chat, you can learn more about a fellow user on a daily basis. However, you won't have additional information about their criminal background, home life, professional activities, or other information that you learn through repeated meetings in real life.
Take your time and get to know each international date. Most of all, as most reviews should mention, don't rush into a relationship or a meeting. Listen to your intuition at all times because some people online just want to keep you talking over time, but they will never meet. They might be married or attached in ways that would stop you from having a one-on-one romance.
Understanding the Authenticity of Charmdate.com
Researching the background of this site indicates that it was launched in 1998 and remains well administered for your protection. However, scammers will find a way to trap you into a fake relationship if they have bad intentions, much like the MTV show Catfish, and, therefore, it's better to move dating activities to real life as soon as you feel comfortable.
Charmdate Membership Fees
Here are the benefits you can expect to use with your membership fee on Charmdate. There are three kinds of paid services that you can use a debit or credit card to enjoy on this site:
EMF Mail
Subscribers must use paid credits to send and receive emails, attach photos, and attach gifts and flowers to the messages.
Call Service
Pay by the minute for instant calls, scheduled calls, and calls initiated to you by another user.
Camshare
Pay by the minute to chat via video conference with another user.
Chat
Pay by the minute to have a fellow user chat with you instantly and start to build a connection. If the user becomes inactive during the chat, you stop getting billed by the minute for the conversation.
Gifts and Flowers
View the specific prices of each flower and gift on the website. These options change over time.
All these services require credits; each costs real money. 2 credits will cost you $16, and each of the services mentioned above will cost from 0.2 credits to a few instances of this virtual currency to activate.
What the Experts Concluded About Charmdate
Our short Charmdate review revealed that new users and existing users must pay by the minute to enjoy many of the site's features. This means using a mobile phone or landline to talk to a person on the phone or in a chat session.
It's hard to build up a long-term love affair through technology, especially with payment programs like this, but if you live far away from your new love interest, you can always switch to Skype or Whatsapp and continue the conversation.
You can view another member live on video or send her gifts and flowers. These premium services can add up quickly, but if a Russian or Ukrainian girl who likes anime is your ideal partner, it pays off to use this site. Without paying for these services on Charmdate, you only receive limited features online.
You can find more review sites, their useful features and cool insights at Animedatings.com