Pros
Registration is free of charge and very easy.
The community has a major focus on the creation of authentic connections based on commonalities and unique values.
Even after sign up, you can later edit personal information.
The dating site, as well as the mobile application, is user-friendly and easy to navigate.
If you are not for the idea of meeting singles for long-term relationships, you can still join the site to meet friends.
Cons
There is a limitation to some of the significant communication and search features.
When registering, you have to fill out a very long questionnaire.
Most of the members are from the bigger towns and cities and fewer from the smaller towns.
Overview
Meetmindful was first launched as one of the best sober dating apps in 2015 to connect a mindful community, bringing individuals together for love and friendships. Just from the name of the dating site, "Meet Mindful" people, it is concerned about connecting mindful individuals to pursue healthy relationships and friendships for the long term.
Therefore, the dating website helps individuals connect with inspiring people daily. It also provides articles and advice on mindful dating and how you can go about your dating journey. This is what makes it very unique when compared to the other sites.
Sign Up
Meetmindful provides users with two ways to sign up and create an account. First, you can register through your Facebook account, and second, you can perform the email sign-up and verification process. The whole process does not consume much of your time as it can take a maximum of five minutes. However, after email verification, you are taken to several pages with questions that you need to answer to form your profile.
During the first registration process stages, you need to specify the sexual orientation and sexual preferences. This is because the site is open to all sexualities and has no gender biases. However, the only needed requirement is verification of an email address to make sure that you have the right and valid email address.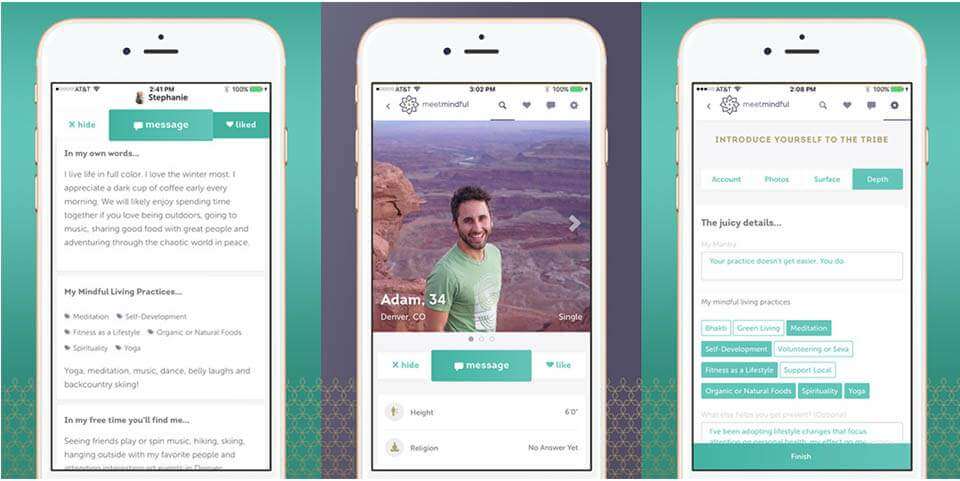 Members & Profiles
If you want to create a profile at Meetmindful, you need to have many things which you are passionate about. This is because of the type and kind of individuals you will find on the site since they will connect with you based on your personality. Completing your profile takes some time since you need to fill up your information in an essay form. Therefore, this means that your profile is made up of things you have written mindfully. Among other details on your profile, you find;
The account profile has all the basic personal information about yourself.
The surface contains information on what you are looking for and such details.
The depth where you write information on how you choose to live mindfully and commit to this lifestyle.
This is a site where you are not supposed to judge a person based on their looks on the profile picture but their profiles, and this is why you are required to provide as much information about yourself as possible.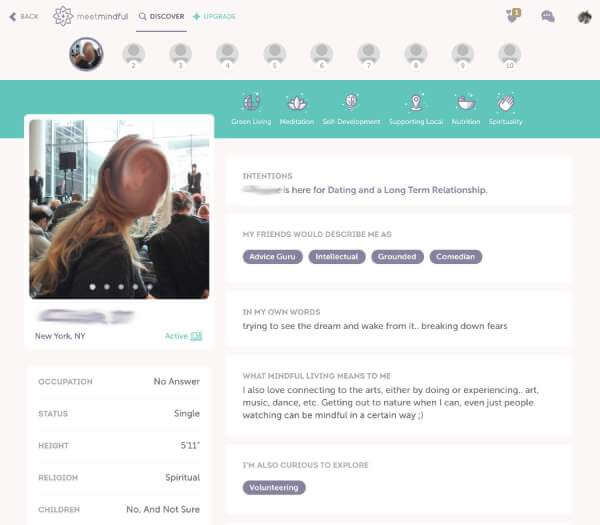 Meetmindful & Safety
Meetmindful takes the necessary security and safety measures to ensure that your personal information is kept private and confidential. For example, if you sign up using your Facebook account, Meetmindful won't post anything on your behalf, and no notifications will be sent to your friends or your Facebook wall. This is just a process to make the registration process easier.
Additionally, if you meet a user with a fake or suspicious profile, it is the best decision to ensure that you report them to the administration. You will find the Report button, which helps you flag accounts, and this way, you increase your safety and the other users' safety on the site.
Is Meetmindful Legit?
Yes. This dating site is completely legitimate. According to Meetmindful and other user feedback, the platform is 100% genuine. It has helped connect thousands of individuals. There is nothing you need to worry about when using the dating site. However, you need to take care of yourself when you are on the site based on the basic security measures found on any dating site.
Costs and Prices
When checking out other dating sites, Meetmindful is averagely expensive, and the premium membership is required for additional features to your profile. The costs are:
| | | |
| --- | --- | --- |
| Duration | Costs in USD | Total in USD |
| 1 Week | 14/ week | 14 |
| 1 Month | 29/ month | 29 |
| 3 Months | 16.33/ month | 49 |
| 6 Months | 13.17/ month | 79 |
Conclusion
Meetmindful is an online platform where mindful living meets the dating world. Therefore, it is a dating site for lovers and a place where mindful people can meet, have fun, talk, and connect. Once you join the site, you are likely to encounter different kinds and types of individuals who live mindfully in their terms and ways. Individuals who value wellness, health and fitness, service, and spirituality make up most of the individuals on the site.
Even though there are quick matches and suggestions, the site connects you with people suited to your preferences and according to what you like. With the detailed profiles, it is a good avenue to scrutinize an individual and decide if that is what you want. However, it is effective for people looking for a deeper connection other than just a match. If that's what you want, sign up today. Read meetmindful dating review and make your choice.
Look for the best reviews of dating sites at Animedatings.com.