Pros
Lots of features to use
Very secure and safe
Different online dating experience to other sites
Speak to like-minded asexual people
A very welcoming community who are looking for meaningful relationships
Cons
You can only access all features if you are a premium member
Not specifically for casual or sexual encounters
While there are lots of features, you can't do much except chat with others
You may not think it is worth paying if you cannot meet people for romantic relationships
Overview
If you are hoping to meet some genuine individuals and make connections without the complications of sex, you need AsexualCupid in your life. This is one of the best asexual dating sites available online. Seriously, countless people are using AsexualCupid to find like-minded people who enjoy platonic relationships over anything physical.
As such, AsexualCupid is more than just your average dating site. People create accounts on this service to meet somebody genuine. With the right attitude and right chat, you'll find somebody with whom you simply click. But how good is the service? And how likely are you to find your soulmate… or even just a best mate?
Check out the rest of our review to find out for yourself!
Sign-Up
Like most online dating sites, AsexualCupid makes it very easy to create an account. You have all the usual sign-up parameters. You have to provide your name, email, password, location, etc. However, you also have to go through a verification process to confirm your identity.
AsexualCupid tries to make its service as welcoming as possible. Still, they also want to ensure that other users feel safe and talk to others without feeling pressured into a type of relationship that does not suit their needs. Therefore, you shouldn't be surprised when you have to jump through some hoops to create your account.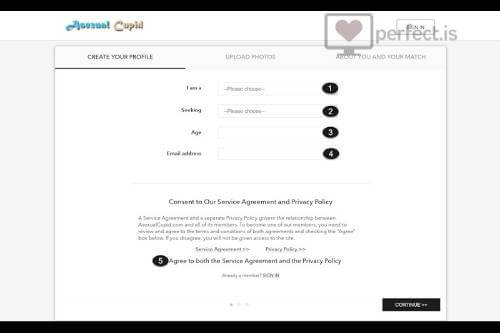 Members & Profiles
If you're looking for casual fun or sexual relationships, you've come to the wrong place if you are thinking about signing up to AsexualCupid. You'll find that the vast majority of users are looking for some sort of platonic friendship or actual dates instead of a quick hookup. Of course, you'll find some stragglers who do not understand the site's rules, but they are few and far between.
Like most dating sites, you'll find that there are more men than women on AsexualCupid, but there are still many women compared to the average.
Profiles are usually well laid-out and thorough, which is a breath of fresh air compared to many dating sites we have to review. This is purely down to the fact that most users are genuine. AsexualCupid does not have as big a problem with fake profiles as other matchmaking services.
The community of asexual people is both inclusive and surprisingly wholesome. We would wager that you could easily make some friends for life after spending some time chatting to others on here. But, of course, you do have to pay to talk to people, but this is to be expected with pretty much every dating site nowadays.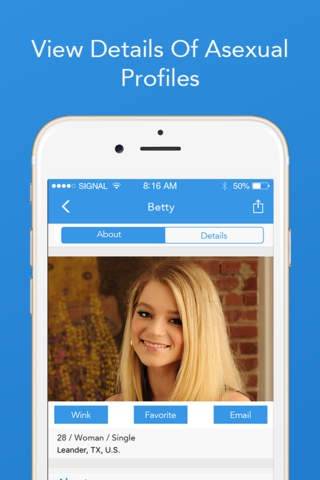 AsexualCupid Safety
AsexualCupid is one of the most pleasant and safest dating apps we have ever reviewed. This service is unlike a lot of the other sites on the market. As such, you don't have to deal with as many fake profiles or scam accounts trying to take your money. The site also uses SSL encryption to protect your personal information and only uses trusted payment portals when you upgrade to the premium membership.
Additionally, you can easily report and block people who make things difficult for you. This prevents them from sending you any further messages and also stops them from seeing your profile altogether. That being said, the AsexualCupid community is amiable, and you shouldn't have any problems with other people.
AsexualCupid Legit?
Take a look online, and you'll find a plethora of favorable reviews for AsexualCupid. In addition, the site is frequented by thousands of asexual singles, all of whom contribute to a very organic word-of-mouth promotional campaign. In the research for our AsexualCupid app review, we found that lots of people had great things to say about the website, stating they had developed some meaningful relationships since becoming a member.
In short, AsexualCupid is 100% legit.  We could not find many reports of scam activity online. Based on the evidence, AsexualCupid has an incredible reputation among platonic date-seeking individuals.
Costs & Prices
Although AsexualCupid is free for all new members, you can only do so much before hitting a brick wall. If you want to enjoy the whole AsexualCupid experience, you need to upgrade to the premium membership. The premium prices are as follows:
1 month costs $9.99
3 months cost $26.99
6 months cost $47.99
Conclusion
If you are looking for a physical and emotional relationship, you should spend your hard-earned money on another dating app. However, if you identify as asexual, you are going to have an absolute blast on AsexualCupid.
While we are not asexual ourselves, we felt very welcomed by the community and other users while conducting our review research. This app is full of friendly, genuine people.
In addition, the user interface is straightforward to navigate, which separates a good app from a great app. Finally, while it would be nice to enjoy more features as a free member, the premium subscription does not cost as much as other dating sites.
In conclusion, AsexualCupid is one of the best value-for-money dating experiences for its niche demographic.
Read other reviews on Animedatings.com.