Pros
Anyone can use the site for free.
The membership base is very active.
Signing up is quick & painless!
Members are real people, not bots
Cons
The site is fairly young.
Some features are for paid users only.
There isn't a mobile app available.
Overview
According to our experience while we were writing this HookupDaters review, for otakus, weeaboos, and anime enthusiasts, leaving the house might not be a part of daily routine. This can make the possibilities of meeting someone to hook up with fairly unlikely, but that's where sites like HookupDaters come in! You don't have to leave your house to get laid; simply jump online, and beautiful women close to home will come to you!
They claim that "Anyone Looking for Hookups Today Needs to Join" HookupDaters. That sounds great, and all, but is the site really as effective as it claims to be? Unlike reviews on other websites, which often only provide a quick overview of the site (or less), in this review, we're gonna take an in-depth look at HookupDaters to find out if it's worth your hard-earned cash or if it's nothing more than a money-grab aimed at lonely singles looking for a night of fun!
Sign-Up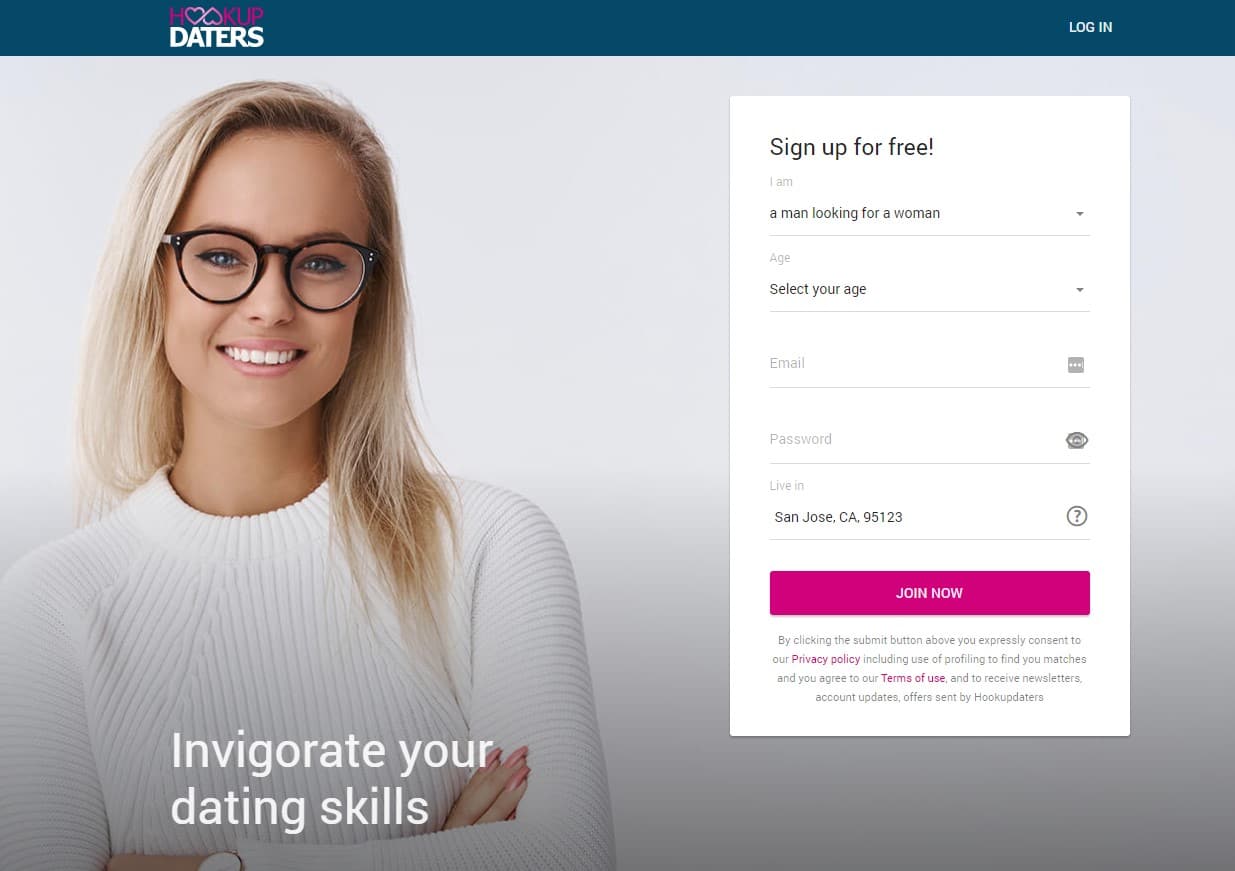 Like many other dating websites, HookupDaters has a simple & quick registration form you will need to complete before joining the platform. There are only five fields you will need to fill out: who you are (man looking for a woman, woman looking for a man, etc.), your age, your email, your chosen password, and where you live.
You want to make sure all this information is accurate, so you have the best experience when using this website. Also, don't try to sign up with a fake email! One security measure HookupDaters takes (to prevent fake accounts) is email verification, so you will need access to the email you sign up with to verify your account before you can use the site.
Members & Profiles
As is the case with many online dating services, HookupDaters doesn't provide any information on the total number of members they have, making it hard to accurately estimate the overall demographic of their service.
That said, when we signed up for the website, there were many local users (both online and offline), so we don't predict any shortage of people no matter where you live. The profiles on the website follow a very basic design, only showing a member's username, age, gender, location, and if they are currently online (or not).
There isn't anything special or unique about this design. Still, it provides all the necessary information you will need before you send someone a message. Hence, it works just fine, although a little originality would have been nice.
Hookupdaters.com Safety
When you're online, privacy and safety are major concerns, especially when you're providing valuable personal information such as a credit card number. Thankfully, HookupDaters takes various precautions to ensure that you'll have a safe and secure online dating experience.
For starters, all new users must verify their email (to eliminate fake accounts), and any pictures uploaded to the website will have to be verified by a site administrator. Member profiles aren't viewable by non-members so that in itself provides a certain level of security. HookupDaters is SSL encrypted, so your sensitive information will be protected during transmission from credit card thieves.
If you suspect a member is fake (or they are harassing you), it's easy to report a member or block them from contacting you right on their profile, which can be useful for maintaining an enjoyable experience while weeding out the weirdos.
Is Hookupdaters.com Legit?
Yes, it is! The HookupDaters website is maintained by a company called Norfex Holdings Ltd, which manages a variety of dating websites such as TenderFling & LoveMatchRoulette. The company has a reputable and long history in the online dating business, so even though the HookupDaters website (which was founded in 2019) is only a year old, you can still trust that your valuable personal information will be safe when you use this site. Never use any site with a questionable reputation, period.
Costs and Prices
HookupDaters can be used for free, but if you want to take advantage of a variety of perks like unlimited messaging, then you will have to upgrade to premium membership (of course, you are free to cancel if you decide the membership cost isn't right for you). The prices listed below are the standard prices. Still, sometimes the website also offers limited-time deals, so you may be able to get enrolled with a cheaper membership price if you're lucky!
1 Day Trial costs $0.99
1 Week of Membership costs $5.00
1 Month of Membership costs $29.97
3 Months of Membership cost $64.90
Conclusion
Even though it is a fairly young website (at roughly a year old), Hookupdaters.com is still a good option for loners, stoners, and anime enthusiasts looking to get laid online. It's easy to find local matches. Since this site makes it very clear what the purpose is, you won't have to worry about miscommunication or mixed messages.
This takes many of the "games" that you might find on other dating sites out of the picture, allowing you to focus on having a good time instead! On the other hand, if you're one of the many daters looking for a serious long-term relationship, then this is definitely not the website for you. If that's the case, then we recommend joining a website like Flirt.com instead!
You can find more review sites, their useful features and cool insights at Animedatings.com