Pros
It is free and easy to register to the dating site.
The site provides meaningful information and guidance on sobriety and ways people can move to recovery.
It is easy to connect to the other people on the site.
The application is free to use, and you can log in and chat with anyone on the LOOSID site and receive support.
Cons
It is not entirely for dating and romantic relationships as it aims at supporting individuals who want to be sober.
Some people may be extremely in drug addiction and need proper and more care than others, but the site offers similar support without checking.
Overview
LOOSID can be characterized as one of the best sober dating apps site meant for the sober community. The digital platform encourages individuals to lead a sober lifestyle. Through the site, you can find and meet thousands of individuals who have a similar perspective as you have and those who understand that sobriety does not mean that people need to lead a boring life.
The philosophy of the social site is living sober ad loving sober, meaning that to live a sober life, it is important to love being sober and work towards it.
Therefore, the site welcomes all the individuals who have an interest in living a sober life and at the same time supporting the community and other members who are struggling with drug addiction in one way or another. It is all about creating a real social impact.
Sign Up
LOOSID has a mobile-based application where users can access the registration process. However, on the actual website, there is no link to sign up for an account. Like the other dating accounts, however, the site requires personal information from all the users such as username, location, password, and other verification details to join the LOOSID community. The registration process is easy and fast.
Therefore, it is only available on the mobile version if you wish to connect to other people. However, to understand the work and its contents, you can read about it on the LOOSID website. Once you have signed up, you get notifications relating to alcohol-free events and meetups in your location and suggest restaurants where you can eat without drinking temptations.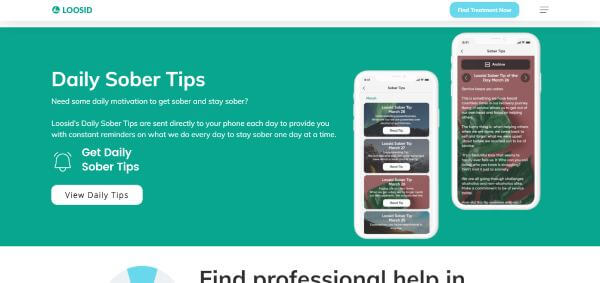 Members & Profiles
The dating site is specifically meant for singles, married individuals, divorced or any person who wants to adopt sobriety. Therefore, the site is very informational and educative in leading a drug-free life and offers the needed support to its members, including organizing alcohol-free events. Additionally, it has a dating section that allows you to connect with other sober individuals, go out on dates, chat and have a fun time.
User profiles include their mandatory personal information, the profile picture, and other additional details. Other users can check out profiles and send direct messages.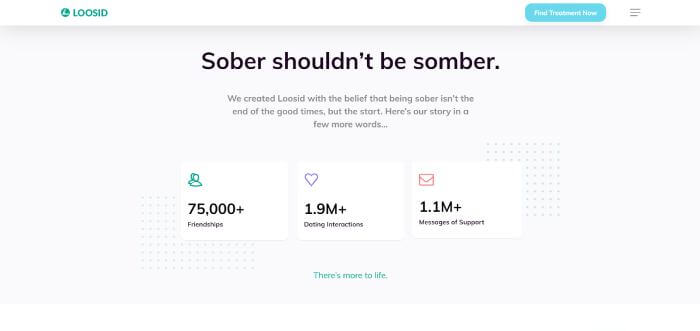 LOOSID & Safety
When it comes to safety and security measures, the site is fully private and confidential, meaning that no personal information is leaked to third parties. Additionally, you get to sign up with your details, and you can choose what to show and what to keep private.
You can also report any fake profiles, choose the people you can talk and chat with and ignore others. The LOOSID application offers direct support for people moving from alcohol and drug abuse, which means that they have to feel safe and secure while sharing their details with other users. You can also sign up with a unique username and change your real information when conversing and comfortable with the site.
Is LOOSID Legit?
Yes. The digital platform has been operational for some time now. With more than 1 million users, you can be sure that the site has been of help to the individuals who choose to join. Even though it is application-based, there is a website that allows you to read about the site's features, the services provided by the site, and direct links to downloading the application.
Additionally, there are numerous LOOSID app reviews of the site as well as from users on app stores. You can read numerous feedback about the site's operation and other user experiences before sign up and installation of the application.
Costs and Prices
Unfortunately, the site does not have a premium membership plan and is open to everyone. This is because the site is more of a social site that offers information about sobriety, how the community can be supported from the effects of alcohol, and how you can support your family towards sobriety.
Conclusion
Based on our review, LOOSID is one of the best applications for someone who wants to lead a sober lifestyle. Additionally, for drug and alcohol addicts who want to quit, it is perfect to offer the needed support, meet like-minded individuals on the same journey, and do that together. Most people use alcohol due to bad influence and company. This application offers tips on how you can stop alcohol abuse, connects you to other sober individuals, and allows you to go on dates with sober singles.
However, one improvement they could make on the site is introducing an online dating website where users can sign up and access through the computers. Through the constant reminders and support from the community, you can undergo the sobriety journey you need and meet like-minded individuals to date for the long term or the short term. Therefore, if you are interested in being sober while also meeting singles, this is the perfect site for you to sign up.
The best reviews of the dating sites Animedatings.com.