Pros
Plenty of trans and crossdressing members
Very trusted site among the crossdressing community
Numerous features for crossdressing picture sharing and fun
Variety of chat options with like-minded people
User-friendly interface
Cons
You need premium membership to use all services
Only beneficial for people who enjoy trans and crossdressing dating
Membership does not come cheap
Most users are men
A few reports of fake profiles on the service
Overview
If you are looking for an online dating site to find genuine interactions with fun-loving crossdressing singles, you should get your butt over to ClubCrossdressing. This dating site is earning quite the reputation in the online matchmaking world, which explains why 10,000 people have already signed up and currently enjoy everything ClubCrossdressing has to offer. We've reviewed a fair number of crossdressing date sites, and we were still impressed by this one.
But is this site worth your hard-earned money? We have dissected everything ClubCrossdressing has to offer, so you can make a decision on whether this is the right dating site for you. Whether you are looked for casual fun, something substantial, or just some friendly chat with like-minded trans and crossdressing people, our ClubCrossdressing review should tell you everything you need to know.
Check out the rest of the article below!
Sign-Up
Let's kick off with the sign-up page. If you are a member of other online dating sites, you'll know how straightforward those sites make the registration process. We are happy to say that signing up to ClubCrossdressing is just as simple. It only takes a few minutes to create your account from start to finish. You must provide some essential information (age, location, gender, etc.) and you, need to come up with a unique username.
You also have to confirm your email before you gain access to the site. ClubCrossdressing will send a link to your inbox. Follow this link, and then you are free to enjoy their services. You also do not have to fill in your profile straight away. However, you may want to do this if you are serious about having a genuine connection with other users.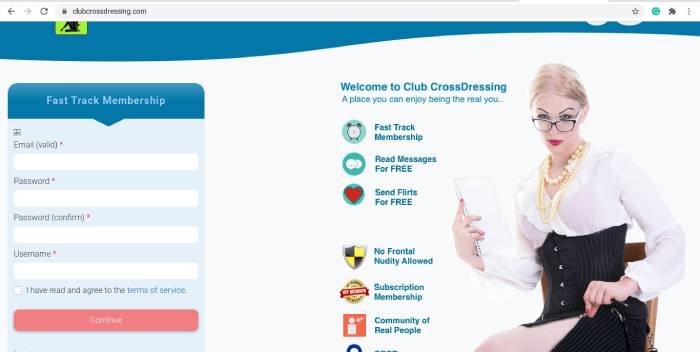 Members & Profiles
As we mentioned in our introduction, ClubCrossdressing is home to more than 10,000 genuine users interested in trans and crossdressing dating experiences. However, most of these users are (or identify as) men, which may deter you from looking for a female companion.
During our research for our ClubCrossdressing app review, we discovered most users are looking for casual chat and online flirting first and foremost. Conversely, many members are still looking for serious relationships, but you'll have to work harder to find them. CasualCrossdressing serves primarily for people to meet like-minded individuals who enjoy the casual side of dating. If you are not looking for anything long-term, this site should be right up your street.
You'll also find that many ClubCrossdressing members take a lot of care to fill their profiles out in great detail. That being said, like many other dating services, you'll still find some accounts that have very little information. Why? Because ClubCrossdressing is full of genuine users, but still has a problem with fake accounts. However, these users are in the minority.
When speaking to other ClubCrossdressing members, we found that the majority know exactly what they are looking for – which bodes well if you are on the same wavelength. Trust us, if you want real meets and relationships with trans and crossdressing singles, you should find them here.
ClubCrossdressing Safety
We strongly recommend that you remain cautious whenever using an online dating site. Luckily, ClubCrossdressing is one of the safest dating sites available to their target demographic. Unlike most other dating services, fake accounts are few and far between. You can also block and report anybody who makes you feel uncomfortable. This will prevent them from seeing your profile or sending you any messages.
ClubCrossDressing also uses SSL encryption to keep all of your financial and personal information secure. They also implement trusted payment portals whenever you need to make a transaction.
In addition, all members have to verify their emails, which makes it harder for people to create fake accounts.
Is ClubCrossdressing Legit?
ClubCrossdressing may not be the most comprehensive dating site in the world, but the vast majority of its 10,000 strong member base is genuinely chatting and flirting with other like-minded people. Speaking to many of them, we found that most people have nothing but positive things to say about ClubCrossdressing, and many have made friends while using the service.
In our opinion, ClubCrossdressing is trustworthy, as long as you know what you're getting into. If you are looking for a legit crossdressing matchmaking site, you could do a lot worse than this one!
Costs & Prices
While ClubCrossdressing offers free registration, you can only use several features unless you pay for a premium subscription. If you want to enjoy all that ClubCrossdressing has to offer, you can pay in the following ways,
3 months cost $16.46 per month
6 months cost $10.85 per month
12 months cost $8.65 per month
Conclusion
To conclude, ClubCrossdressing is one the most enjoyable online dating sites for single trans and crossdressing people on the internet, particularly if you want to send flirty messages and enjoy light-hearted casual encounters. You never know – you may even find the love of your life on this service. ClubCrossdressing does attract a wide variety of people.
While the price isn't as low as other services, and some members can be somewhat off-putting, we found ClubCrossdressing represents excellent value for money. We just wish there were more users on the site, as it can be challenging to arrange local meets if you do not live in a big city.
The interface is easy to use, and the whole site looks professional and visually appealing.
Want to know more? Try signing up for the site and seeing if you can connect with other singles in your local area.
Good luck!
Go to Animedatings.com you will find many reviews of dating sites there.