Pros
Easy to navigate user-friendly website layout
Sign up process takes less than 5 minutes to complete
A large user base with a great diversity
Good value for money – you get what you pay for
Android users can enjoy dating on the go with the help of the mobile app
A strict profile verification system ensures only a few to no fake profiles possible to meet
You can cut the registration process short by signing up via Google
Cons
There is no downloadable mobile app for iOS users
There are few reports of scam profiles
User profiles aren't as detailed as expected
The pricing on Eurodate is one the slightly higher end of the spectrum compared to other platforms
The platform is made for finding long-term relationships. Hence, it isn't ideal for casual hookups
Overview
Established in 1993, Eurodate is an online dating platform renowned for its international user base and long history. The website has established a name for itself by matching millions of singles with lifetime partners all across the globe.
Doesn't matter whether you're interested in lesbians, gays, or straight people or what hobbies you're into(binge-watching anime, reading books, or going on trips); Eurodate has matches for everyone. In this Eurodate review, we will be covering all the knick-knacks you need to be aware of before stepping into finding the love of your life who's also into anime.
Keep reading and get more than other reviews can provide!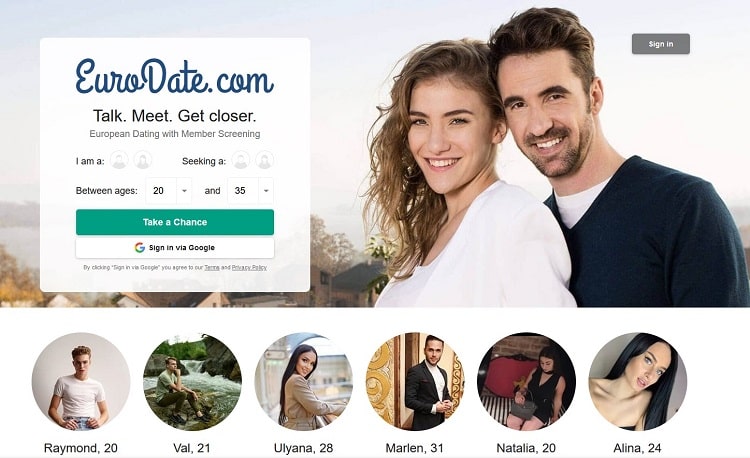 Sign-Up
Signing up and joining the pool of profiles on Eurodate is a very simple and quick process. All you have to do is to visit the website and follow the next few steps:
Proceed to the signup/ registration page
Add necessary details such as username, age, gender, and gender preference
Next, you'll be redirected and asked to add your profession, a suitable profile picture, a brief introduction, and your personal email address
All you have to do is to verify your email ID and begin meeting, chatting, and navigating the sites' various features.
You can also cut the sign up procedure short by utilizing the sign up via Google option. To ensure you get what you're looking for, add all details required for better matches.
Members & Profiles
Most users registering on Eurodate are Europeans. However, the site is open for anyone to join and begin their search for the best international match-making experience. Signing up on Eurodate is free of cost. However, upgrading to premium definitely has its own perks.
The website has over 2 million registered members and over 500,000 active profiles daily. The most popular age group on the site is between 25-35 and few users in their 40s. You'll notice more female members (60%) than male members (40%) on the site coming from 23 different countries across the globe.
Eurodate.com Safety
Safety is the most fundamental concern of any internet user and, without a doubt, the hardest one to manage. Nevertheless, Eurodate takes utmost priority to ensure all members feel in safe hands at all times. The site has an up-to-date encryption system that ensures all your data and credit card details are entirely secure and cannot fall into the wrong hands.
There are also several options that users can take, such as reporting accounts and blocking users from bothering you unnecessarily. If you require prompt reply and assistance, there's also a 24/7 customer support service available at people's disposal to help you with the upcoming troubles and difficulties.
Specific actions can be taken on behalf of the user, like choosing a strong password and avoiding giving out personal information to increase the security level even more.
Is Eurodate.com Legit?
Every dating site has a few scam accounts, and not every account can be caught and taken down. But Eurodate has an anti-scam system. Every profile is manually approved, requiring verification via email or contact number.
The website also regularly promotes anti-scam policies that users can utilize to prevent identity theft. Other than that, members can also report the accounts for immediate termination of suspected accounts. Additionally, Eurodate strictly regulates the prevention of information sharing to third parties. This far, you may not worry about the specific data you mention during the registration.
Costs and Prices
Most features on the platform are only available for premium members. Hence, it's worthwhile investing a few bucks into purchasing credits and availing features you want to get your hands on. The value for money is incredible on Eurodate, considering credits can be utilized to gain access to features as and when required.
General breakdowns of what some feature cost are as following:
Basic chat: 1 credit/min
Email: 10 credit/email
Video chat: 6 credit/min
Sending/receiving photos: 15 credits/image
The general cost of purchasing credits is as follows:
150 credits for 49.99 USD
600 credits for 150.00 USD
1500 credits for 300.00 USD
If you don't fancy the credit system, you can also purchase the premium package for:
Basic plan (trial version) for 2.99 USD/month
Basic plan (regular version) for 9.99 USD/month
Note that all payments are recurring, and the only accepted method of payment is the credit card. If you wish to cancel your user membership at any time, you can message the Eurodate team with the subject "membership cancellation" or contact customer service via their helpline. Note that all requests for cancellation need to be made 3 days after the plan has been purchased.
Conclusion
Online dating is now the go-to method of meeting new people and connecting with those who share the same interest levels in the same kinds of hobbies. Compatibility is a crucial element of a healthy relationship. Using Eurodate, you can easily meet the person who essentially feels like your other half.
Sitting back in the comfort of your home, Eurodate lets you chat, meet, and flirt with multiple people at once, is on a global level too. You can now go international and find the love of your life without having to travel across continents and borders. Take no more time for sophisticated dilemmas about searching for a soulmate. Join in and set yourself for a sweet love journey!
You can find more review sites, their useful features and cool insights at Animedatings.com