Pros
Lots of features to use
Secure privacy settings
The free version has lots of features
Track your milestones and build good habits
Enjoy a welcoming community full of like-minded people with a similar goal
Cons
You can only make trackers private if you are a premium member
Not specifically a dating site
While there are lots of features, there are no dating-specific functions
Notifications can be late
Profile pages could do with some extra personality
Overview
If you are looking to quit drinking and make connections, you can do a lot worse than IAmSober. This is one of the best free sober dating apps on the market. Millions of people use this site to help them beat alcohol addiction. However, you will also find that users are willing to stick around and chat.
As such, IAmSober is so much more than just a sobriety counter. IAmSober helps you build healthy habits and motivates you to continue on your sober journey. Millions of people have signed up to this service, so you are likely to find somebody in the community who has experienced similar hardships.
If you are looking for community and lasting relationships (and potentially dates), IAmSober may be the app for you.
Sign-Up
If you want to register with IAmSober, you'll be happy to hear that the process is straightforward and only takes a few minutes. As soon as you download the app, you'll be asked what you are trying to quit and when you decided to get sober. You are then free to explore the app as much as you want.
You will be asked if you want to support the site by becoming a premium member, but this is not a requirement. You will also have to provide an email address if you want to comment on people's story updates or speak to them privately.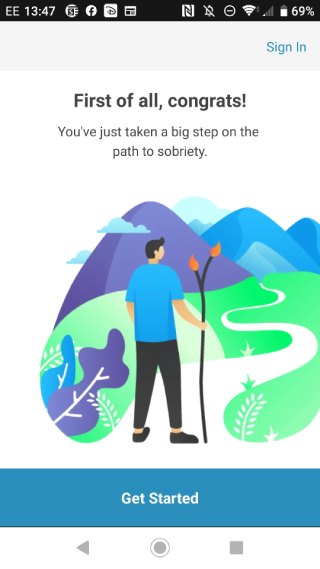 Members & Profiles
The first thing you will notice about member profiles on IAmSober is the lack of an "About Me" section. This is because IAmSober is not asking you to sell yourself; they just want you to track your sober progress, meet your milestones, and engage with the community. However, you can change the "skin" on your app to better suit your personality and mood.
We found that there are over 1 million members who are active on IAmSober, and the gender split is pretty much equal. We also found most members to be charming and open to support. Friendships are easy to come by, and many users seem to be looking for genuine connections – so try not to flirt with people openly.
Unlike most of the other apps we review, there are very few fake profiles. This probably has something to do with the absence of the casual fun guarantee peddled by most dating sites in this day and age.
In short, you'll find many people here are looking for a place to share their thoughts with people who understand what they are going through. If you're looking for a genuine community that will help you reach new heights and change your life for the better, you are going to find it here.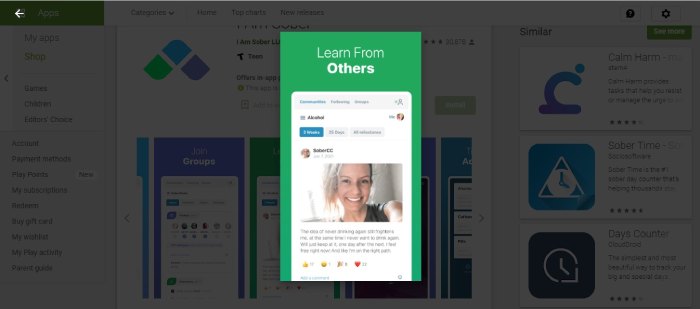 IAmSober Safety
IAmSober is one of the safest apps we have had the pleasure to review. Because it is not a traditional dating site, you do not have to worry about fake profiles or scam accounts trying to con you out of your money. However, if you want to be afforded maximum security, you have to become a paying member to keep your trackers private.
IAmSober uses SSL encryption to keep your information safe and secure. They also use trusted payment portals for all premium subscription payments. In addition, the site provides a block and report feature if you find any users who make you feel uncomfortable or act aggressively. That being said, very few people have issues with other members.
Is IAmSober Legit?
According to the Google Play Store, IAmSober has been downloaded more than 1 million times. It also has over 35,000 positive reviews. The vast majority of people are on these sites to get well and support other people who want to become sober.
As such, you can assume that IAmSober is 100% legit. We searched high and low for claims of fake profiles or illicit behavior and could not find any.
Rest assured, IAmSober is one of the most comprehensive and above-board sobriety trackers available to download.
Costs & Prices
While IAmSober is free for the most part,  users can opt to sign up for Sober Plus, which grants you access to additional features, such as locked tracking and private groups. The prices listed below were accurate when writing this review, although they could be subject to change.
1 month costs $6
6 months cost $34
1 year costs $60
Conclusion
If you are looking for a traditional dating app, you may want to try somewhere other than IAmSober. However, it is hard not to like everything IAmSober offers as a network for former addicts to support each other.
While we are not looking for sobriety ourselves, our IAmSober review research was an eye-opener. This app provides everything you need to build a better life for yourself away from alcohol and substance abuse.
On top of that, the users are friendly and more than willing to offer friendly words of advice and encouragement. We have to concede that friendship is more likely than dates on this app, but that should not discourage you from engaging with this online community.
In short, IAmSober is amazing… just not for dating experiences.
Best reviews on Animedatings.com