Pros
Members do not get annoying messages from persistent users
Women are more in number because there are quality profiles of members
Amazing algorithm for matching
You can get free beans for signing up
You can get an amazing app is available
Cons
Doesn't work in small cities
Limited matches per day
Not possible without Facebook
Photos from Facebook automatically taken
Chatting is possible for 7 days only
Overview
CoffeemeetsBagel is one of the teen dating apps to hit 25 million users recently with 60% women and 40% men. Have you been waiting for the CoffeemeetsBagel app review that is not too long? Here it is. CoffeemeetsBagel is a casual dating site curated for women to have more fun. Thereby, more women sign up for this website. The CoffeemeetsBagel review will help you get helpful insight. There is no restriction to dating preferences. If you are a straight dating person or a gay or a lesbian or a bisexual, this website welcomes you.
A little bit about the history of the website, it was started in 2012 by 3 sisters in San-Francisco. As women, they understand that women have to constantly go through teasing, creepy stalking, and cat-calling and that is why they wanted to build a website that will help women take the lead. This will also prevent men from creeping their way into women's chat boxes. Women show up as potential "Bagels" to men. When men choose those bagels. These matches are then shown to women as potential matches.
Sign-Up
Registration on CoffeemeetsBagel is pretty simple. You can use the website or the app to register and then use the username and password to log in next time. First of all, you will meet with a few easy questions like your gender and the gender you are interested in. Login will be done using your Facebook details.
Afterwards you can move on to profile creation where you have to specify your ethnicity, age, location, education, occupation, religion, passion, interests, dislikes, and so on. There are a few details that are marked "star" which means they are obligatory. Also, CoffeemeetsBagel makes it fun by adding 3 incomplete phrases that you have to fill in. They deal with a description of you, what you are looking for, and things your date might do that you will appreciate.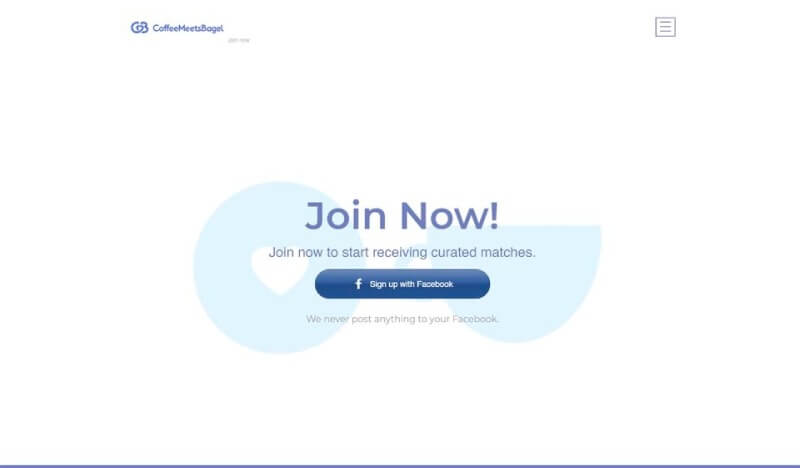 Members & Profiles
Anyone who is single interested in casual dating can use CoffeemeetsBagel. Men and women between the age of 21 to 35 are found mostly on the app. But people of any age can join the website. The way profiles are visible to others is quite sophisticated.
It includes a photo of you with your name, age, profession, and location. Apart from the basic information, there is a lot more about your occupation, workplace, ethnicity, likes, and dislikes. Also, how you describe yourself and your date will help you to get better matches.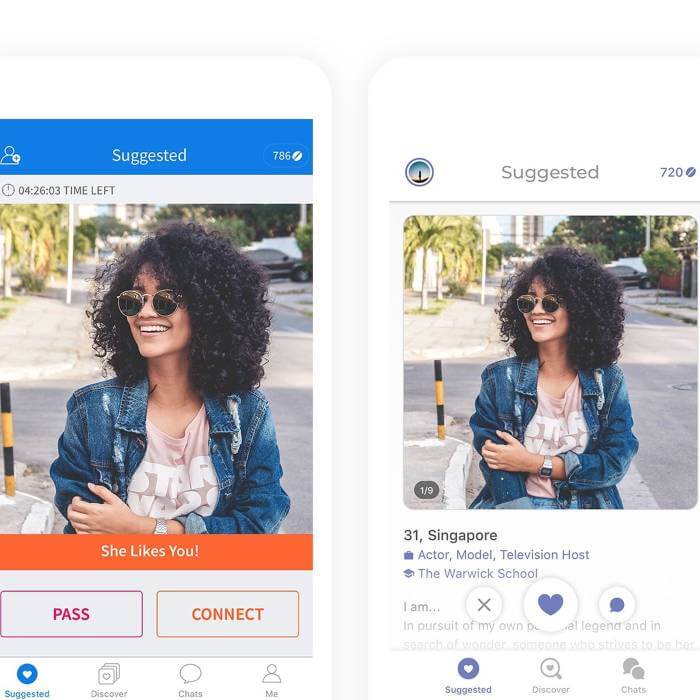 CoffeemeetsBagel & Safety
Well, the main reason for CoffeemeetsBagel to become popular (hitting 25 million) is because of its safety. The number of fake profiles reported is fewer as compared to most of the other websites. It was important for the founders to give the ladies their freedom of choice and to be stalked constantly.
That is why they limited the number of "Suggested Bagels" to 21 and they have 24 hours to like or super like them. On the other hand, women are presented with bagels who meet their matching criteria and who have liked them. So that they get some good suggestions. Also, women are the ones who can start chatting first and it is limited to 7 days.
Is CoffeemeetsBagel Legit?
Yes, both the website and app are legit. CoffeemeetsBagel servers are located in San-Francisco. It was created in 2012 and it is pretty new and they reached their peak quite fast. All that happened because of their amazing smooth design, clever AI, intelligent matching algorithms, and above all, the ingenious idea to let women lead.
This app has crossed all the other major apps in the niche within a matter of years because of its amazing concept. It is a good website to try. Also, they have blogs and opportunities to work that attract even more people towards the dating site.
Costs and Prices
CoffeemeetsBagel is a bit expensive but that is because it offers top-notch services. Following is the break-up of subscription plans:
1 month (34.99USD) — total is 34.99USD
3 months (25 USD per month) — total is 74.99 USD
6 months (20 USD per month) — total is 119.99 USD
12 months (15USD per month) — total is 179.99 USD
There is an in-app currency called beans. Each time you use super like, you spend 540 beans or you want to unlock more bagels on CoffeemeetsBagel, you have to use 250 beans. How do you get beans?
100 beans — 99 USD
2000 beans —99USD
3000 beans — 99USD
Conclusion
In conclusion, we can say that CoffeemeetsBagel is one of the best dating websites. As this CoffeemeetsBagel review suggests, you can trust your data with the site. They have the most popular app and as per our CoffeemeetsBagel app review, it runs perfectly well on Android and iOS.
#LadiesChoice is a way to let the women choose their "bagel" and chat with people whom they want rather than being chased or stalked by someone. Women outnumber men on this website because of this very reason. With an intelligent logic for matching and premium design, this CoffeemeetsBagel lets you read dating trends in blogs too.
Read reviews of dating sites on Animedatings.com