Pros
It's quick & easy to sign up.
IwantU is simple to use.
The site is old & well-established.
Cons
Some features (such as viewing photos or the ability to reply to a message) are only for paying members.
The option to deactivate vs. delete your account, while useful, may be confusing to older users who simply want to cancel their billing.
Overview
In this thorough review, we'll take a close look at all the website's features and failures. Unlike other Iwantu reviews that only skim over the details, we take an in-depth look at each website to provide singles searching for love online with the information they need to get the most out of online dating. Will this website pass the test, or is it another failed attempt to stir up romance for anime lovers and the rest? Read on to find out!
Sign-Up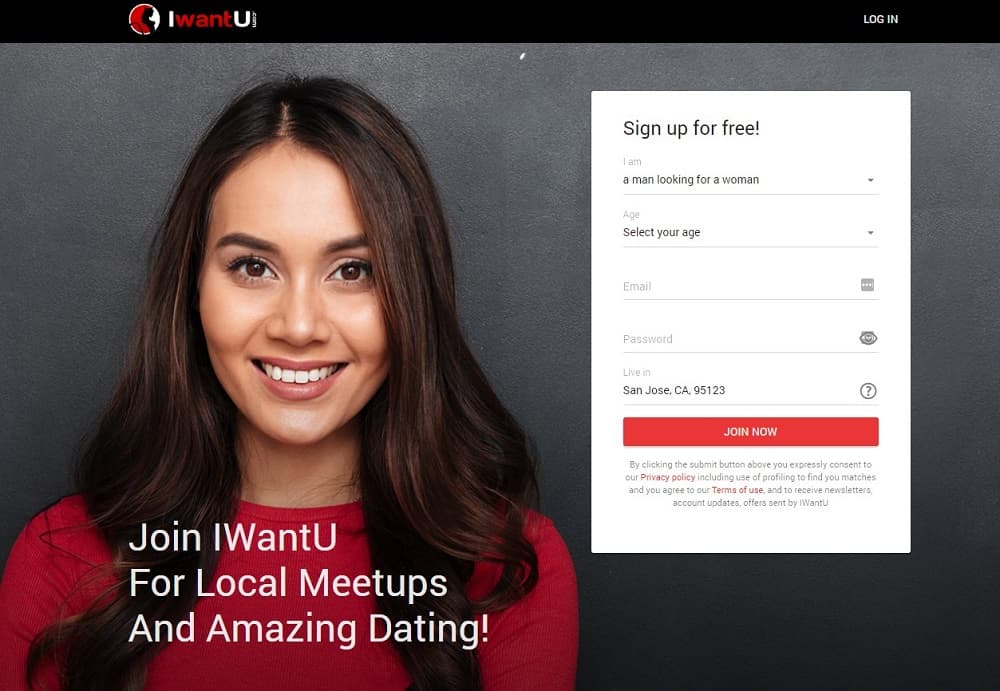 Like most dating websites, the registration for this website is relatively quick and painless. To join, you'll only need to provide a limited amount of information, starting with who you are. Are you a woman looking for a man? A man looking for a woman?
Or perhaps you're a man looking for a man or a woman looking for a woman? Regardless, IwantU is an LGBT-friendly website, so you can join no matter your sexual preference, which is important (and a practice that more websites should follow)!
Whether you're a single lady looking for love or an anime lover looking for your waifu, you're only thirty seconds away from sending messages & getting to meet someone! After providing who you are, you'll need to fill out your age, email, password, and location as well.
Members & Profiles
Like many smaller websites, IwantUcom doesn't advertise the number of members who currently use their services. However, when we signed up, there were a decent amount of local singles in our area, so we don't expect you to experience any trouble finding bachelors & bachelorettes in your area.
Since it is a cookie-cutter website, IwantU has a fairly standardized design. The layout of the profiles is quite simple (which also means it's a very familiar look!). This isn't necessarily a bad thing, though; it simply means the site should be fairly easy for anyone to pick up & start using with minimal issues. Each profile shows basic member information, such as a photo, name, age, gender, and location.
IwantU.com Safety
The entire service is protected by SSL encryption. It means any data (like credit card information) transmitted on the website is safe & secure from would-be hackers & scammers. The community itself is protected by its signup process, which requires every member to verify their email.
Every uploaded picture is approved by site administrators, reducing the number of fake accounts that make it onto the website. If someone isn't signed in to the website, they won't be able to any profiles (and unless they are a paying user, they will only see blurred versions of your pictures).
This, while annoying, is an effective way to prevent identity theft. The site also has an active staff of site administrators who take complaints and reports from members when suspicious activity happens, maintaining their service's overall integrity.
Is IwantU.com Legit?
When you're using the Internet, online safety and privacy is a top priority. Is this site legit? Are they going to steal my credit card information and sell it to some creepy guy on the web? Well, fortunately, that is not the case with IwantU.com!
The website (which is currently owned and operated by InfraWeb Solution Limited) is a fairly old & established platform. Although the company that owns it is only two years old, the website itself has been in service since 1997, so you won't have to worry about your personal information being compromised or anything like that.
Costs and Prices
IwantU has two types of membership: basic & premium. Basic memberships are free to anyone and well & good, but you will get a variety of extra perks when you purchase a paid subscription, such as unlimited messaging & the ability to view all pictures on the website. Below are the standard prices for IwantU premium membership.
1 Day costs $0.99
1 Week costs $5.00
1 Month costs $29.97
3 Months cost $64.90
The prices above are the standard pricing, but IwantU often offers discounted pricing to new members. Suppose you decide you want to become a paying member. In that case, we highly recommend you wait until you can grab one of these limited-time offers!
Also, it is important to note that the cost-per-month goes down when you purchase multiple months instead of one, so we recommend purchasing the 3-month subscription instead of the 1-month plan.
Conclusion
If you're trying to find a real relationship with men and women without leaving the comfort of your own home, then IwantUcom is an obvious choice. This site is good for those looking for love: it's easy to use, it's well-established, it has a wide variety of members, and it's LGBT friendly (so no-one is excluded!). You can use this site for free, but realistically, you won't get the service's full benefits unless you pay for a premium membership.
Still, this is fairly common with most dating sites, and since the membership prices are very affordable (PLUS, they go down if you purchase multiple months of subscription!), we don't consider this much of a problem. If you're new to online dating and looking for a legitimate site to find more than just a hookup, then IwantU is a great place to start!
IwantU is the best site for men & women looking to create real connections online! Join today for free!
You can find more review sites, their useful features and cool insights at Animedatings.com