With a dating simulator, the ultimate goal is to find a date at the end of the day. Usually, the single-player format allows a player to select who to engage on any anime dating simulator. Let's check out the top five anime simulators at present.
10 Days with My Devil
Is there much Coincidence? After hours of what seemed like good luck, it may turn out that luck had nothing to do with said events. A house burns down, and it is becoming increasingly apparent that perhaps, you are fit to die sooner rather than later. This simulator is built for iOS and Android, and it falls under the visual novel, romantic genre of these dating simulators. The ultimate goal, or challenge, is for the player to choose between falling for an angel or demon. The choice is yours as to which is befitting, as opposed to death. It is the perfect otome game for on-the-go, exciting anime dating. The game was released on the 7th of August by developer Voltage.
Pick between dating Angels or Demons on 10 Days with My Devil.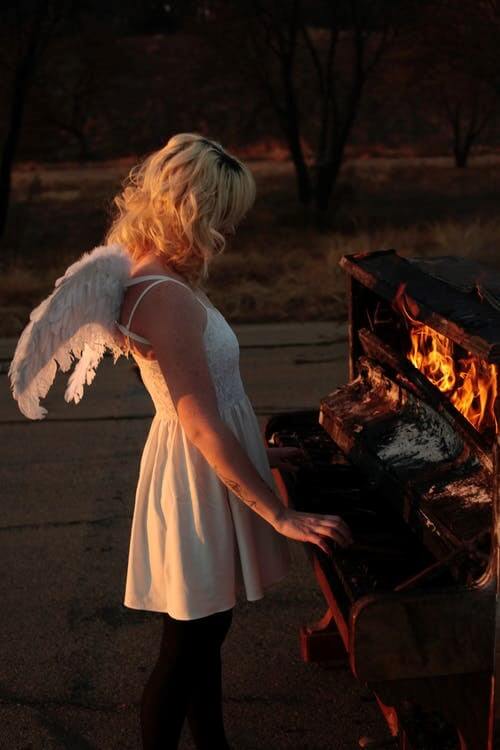 Hunie Pop
Unlike most popular visual novel games, this anime simulator gives players a chance at dating. Here's the plot. You can play tile-syncing games to win the affection of ladies and take them out on dates. One of many popular simulators, it is ecchi-themed, with an integrated gameplay element. Also, players need to be of age, as the game boasts more than enough sexual innuendos to make for an adult-themed or XXX-rated context. It is a must-try anime simulator, incepted in January of 2015 and built for several platforms. The compatible OS includes Windows, OS X, and Linux. Get your anime dating simulator experience going today with Hunie Pop.
Hustle Cat
It is an indie anime dating simulator with features galore and a must-try for anyone seeking versatility in a game. Players get to choose their genders, and of course, their personalities in terms of looks. Contingent on their preferences, players get to choose between several gender routes. It is a game for all and sundry, except perhaps those with a phobia of cats. Incidentally, the main character is Avery Grey, an awkward and clueless fellow who finds himself employed at a cat café. The best part of the café experience, at A Cat's Paw, takes place at nightfall. It seems the café might be bewitched, and either way, it is an experience worth enjoying first hand. Take on Hustle Cat today, on PC only, from developers Date Night.
Simgirls
Part of the hentai, ecchi genre, it is a classic anime dating simulator, and it came to be around April 18th, 2002. It is a game meant for mature audiences only, with the male character, a homely one at that, hoping to find love in a beautiful lass someday. As the lad prays to receive charming looks at some point in his life, a girl travels back into time for the most absurd reason. Incidentally, she seeks to stop a playboy from birthing more than 100 kids in the future. It turns out it will be your character on this anime dating simulator. Incidentally, she ends up turning this womanizer into precisely what she sought to eliminate. Pretty good plot, yes? This manga, known as DNA2, is one you need to experience first-hand. The game was designed for PC platforms and is a product or development of Sim-man.
Futuristic lady curbs your need to populate on Simgirls.
Clannad
A bit of an emotional anime dating simulator, the main character finds his way into the heart of a girl desperately trying to complete her studies. Finding it challenging to complete her final year due to being indisposed, it is an emotional rollercoaster type of anime dating simulator. The main character's history is one of empathy, he makes friends with Nagisa Furukawa, and they end up spending ample time together. Once her drama club sessions end indefinitely, the two create a bond meant to drive them closer and help them rebuild the drama club. Similar to the anime series itself, it fell into the visual novel genre and was developed by Key. Clannad is built for Windows, PlayStation 2, SG3, FOMA, and Xbox 360. It was released in April of 2004.