Anime geeks bring heaps of passion and excitement to relationships. Whether you're a geek/ dating one, you're bound to have a brilliant time dating. There will be moments of uncertainty with any relationship, where you think that fight was the one to end things, but there is always hope, and there's still love.
Knowing what goes into having a great relationship and understanding when things need fixing ensures longevity and happiness. We will briefly unpack what factors you need to look out for in your relationship, get a connection on track again and what anime can bring to the romance. Hopefully, your understanding and appreciation for your partner will grow!
Factors of a Healthy Relationship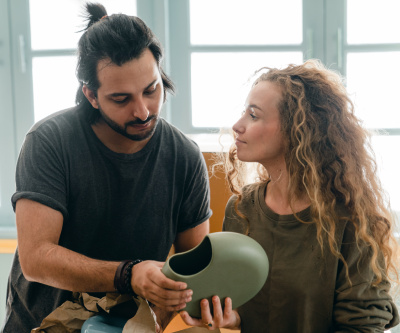 All relationships have different boundaries that make them healthy to the individual, set quality time each week, or have an hour apart each day. No matter your style, some beneficial factors that need to be included in all relationships.
Understanding. Knowing that you know and understand your partners' emotions is vital for a relationship to be healthy. Ensure that your partner is listening when you're explaining something difficult or important to you and ensuring you reciprocate.
Communication. This goes hand in hand with understanding and is a significant factor in successful relationships. You will fight, and you will disagree but being able to communicate, to be open about your feelings, will be the difference between a broken heart or a full one. And if a romantic relationship with your boyfriend or girlfriend will grow into marriage, communication will be even more vital!
Sex. This may be a taboo subject, but sex is a major part of any relationship. Of course, the spiritual/emotional connection you have with someone will last a lifetime, but you need that passion and fire to keep things fresh. Loving couples having sex is a standard: both of you need sensual satisfaction.
Loyalty. The obvious one: staying loyal without temptation is a sign of a healthy relationship. If you feel the need to cheat, something is missing from the relationship/ you have some soul-searching to do.
Humor. Not everyone will be as funny as our beloved comedians; however, having humor in a relationship allows you to relax from life pressures. Your partner should help ease your stress, not add to it. Be with someone that makes you feel your happiest, even on your worst days.
Romantic acts. These don't have to be extravagant but buying a little treat for your partner or going all out for your homemade dinner won't go amiss.
How to Get a Relationship Back on Track?
Will things fall off the rails a bit? Yes, and you will lose that groove you thought you had, but this isn't the end! There are ways to get the relationship back on track and ensure it's less likely to reoccur. Here are some quick tips to follow!
Work out the root of the problem. This could take unpacking but get to the crux of the issue will produce a more successful outcome.
Make plans to avoid the issue. Depending on the problem, there are ways to prevent a reoccurrence. Whether it's stronger communication or changing up routines – decide together on how to resolve conflicts.
Arrange quality time together. After the conflict, it's important to rekindle the flame and to make you feel connected to your partner again. Do things you love together: you could sit down and watch a new anime title.
How Can Anime Help Your Relationship?
Anime shows us idealistic yet dramatic examples of love. The range of emotion and excitement found in anime shows loosely translate into your everyday lives and shows us new ways to love. They could inspire you to perform new romantic acts or show us the passion we long to have. Dating an anime geek will enhance your life in a range of ways, whether you watch it or not! Suppose you're not a fan, but you're dating an anime lover. In that case, we guarantee you'll start seeing it for the brilliant entertainment that it is. Set boundaries – he may propose marriage, but if you are not an enthralled fan, then Naruto-themed wedding is out of the question.
Anime geeks can bring a lot to relationships, making them the best partners to have. Relationships take a lot of work; if you're with the right person, then it will all feel worth it. If you're single, now's your chance to find your perfect match. If you're an anime geek or dating one, how can you take these factors and tips to enhance our relationship?