Who does not enjoy a relationship that involves their favorite characters? The same holds for anime shows that become more interesting and exciting when you have your favorite characters taking the lead. Speaking of anime shows, romance is a prevalent factor and often plays the central role, irrespective of the genre. Quite interestingly, so many of those characters seem to be written for each other, and we love those girlfriends with all of our hearts. In fact, they often convince people to go online or try anime dating apps to find similar partners.
Truly, those pretty girls make those shows work by loving, protecting, and fighting for their lovers with passion. Be it the action or romance; those virtual girls know how to capture your heart along with grabbing their love interests' attention. Here is our list of the 5 best girlfriends you find in popular anime shows.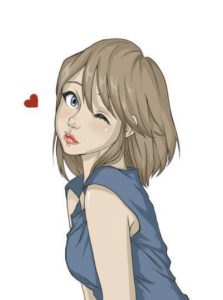 Ino – Naruto
She has to be on any list of popular girlfriends in anime. She had a crush on Sasuke and went the distance to compete with Sakura. It is quite interesting to see how she eventually crosses paths with Sai and finds a spark between them. Though Sai takes longer to realize it, it adds to the overall drama and keeps viewers glued to their seats. They eventually get married and support each other throughout the show. They have their respective roles to play in the village, cooperate in everything, and know what the other person is thinking. Their interaction, cooperation, and belief in one another give them a spot on our list.
Misa Amane
Misa, from Death Note, is a cheerful character and no less than a celebrity. She is a bubbly superstar, despite all the hardships she had to face as a child. She watched her parents get murdered right in front of her very eyes. That incident causes her to develop emotional abnormality until the mysterious entity called Kira saves her. Eventually, with her Shinigami Eyes, Misa manages to identify Kira and falls for her. She devotes her life to him, and they both work as a team to find the identity of L. What makes Misa truly remarkable is how she values Kira and treats him as the most important person in the world. She even does not care about shortening her lifespan for acquiring Shinigami Eyes. All these traits make her one of the best girlfriends in anime.
Kotoko Inagawa
Anime lovers just cannot forget Kotoko Inagawa and her love for Kuro. What sets her apart is that she continues to love Kuro irrespective of his supernatural imperfections. She is an important character in In/Spectre, a popular mystery romance anime.
She falls in love with Kuro as soon as she first lays her eyes on him. As bold as she is, she wastes no time confessing her love to him. Kuro seems to be a bit skeptical at first, but eventually, he falls for the small Goddess of Wisdom, and they both become a couple. Kotoko is appreciated for not taking Kuro as a monster for his ability to heal quickly. Her character shows that it is possible to fall in love with anyone, irrespective of their imperfections.
Kurisu Makise – Steins; Gate
Kurisu becomes a science genius at the tender age of seventeen, making her famous in the scientific community. She eventually meets Okabe Rintaro, and though they have a spiteful relationship at first, they slowly begin to like each other. Their feelings for each other become stronger as the show proceeds, but they do not confess anything until the second half of the anime. The interesting thing is how they have to deal with various alterations with time but still manage to find each other.
Adachi
Love can take any shape and form, and it is just as beautiful even when it involves homosexuality; at least, that is what you find in Adachi and Shimamura. As the anime progresses, it feels as if both characters are made for each other. Adachi is not great at expressing her true feelings, as she is uncomfortable dealing with difficult social situations. It all changes when she bumps into Shimamura who gives her the confidence to open up and share her innermost feelings. They both work as a couple even though they have opposing natures, and that makes the whole show worth watching.